ESP755 Full-Book Job Offset/Stacker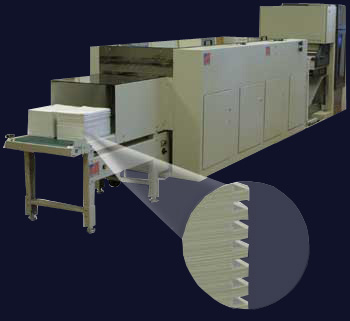 The ESP755 Full Book Offset Stacker will give you neatly stacked and offset output from the ESP726s or ESP703 cutter systems. Designed for report printing, statement generation, book publishing, billing applications, and internal documents.

Fully Offset East-West - Stacks are offset 1/2" to the left or right allowing easy post-cut distribution.

Independent Two-Up Offset - Separately offsets the left and right stacks.
Automatic Stack Delivery - The stacks offload to a output conveyor when the maximum stack height is reached.
Does Not Stop The Printer - All offsetting and stack delivery is completed without interrupting the printer. No accumulation device is required to assist with stack offloading.
Multiple Stream Forms Processing - Maximizes the printers output.
Pinfed and Pinless Operation - Runs a wide variety of paper styles and weights.
Easy Operator Setup - Integrated LCD display and menu system allow for easy set-up.
Small Footprint - With all features being integrated into the cutter and ESP755 Stacker, no additional devices are needed, making the ESP solution one of the smallest footprints in the industry.
Static Reduction System - Substantially reduces static caused by less than optimal environmental conditions.

The ESP400 is certified to American, Canadian, and European safety standards: