ESP726 Continuous Forms Cutter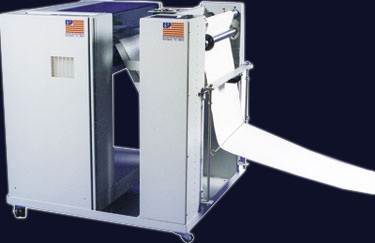 Designed to meet the demands of high-volume form processing. Utilizing an advanced microprocessor controller, the ESP726 can store up to 41 different job settings, including single-cut, strip-cut, and multiple length cuts. These features, coupled with the ESP726's rugged design, will give years of reliable and trouble-free usage.

Advanced Microprocessor Controller, allowing easy future upgrades and job programmability.
LCD Display and 8 Button Control Panel displays current status and all job setup parameters.
Forms Depth: 1/6" and 1/8" allows greater flexibility of form size specifications.
Auto Paper Advance for quick, hands-free paper loading.
Paper End Sensor for automatic paper-end shutdown.
On-Line and Off-Line Modes gives the flexibility to use the cutter with a printer or in a finishing department.
Central Width Adjustment allows quick and accurate width changes to accommodate many form sizes.
Stores up to 41 Different Jobs to reduce setup time = increased production.
Ultrasonic Loop Control automatically monitors and adjusts to printer speed.
Printer Interface Included should an error occur, the ESP726 will notify the printer and stop production.
Wheel Mounted allows easy movement from one area to another.
Modular Design allows you to custom configure a solution to meet your specific needs.

The ESP400 is certified to American, Canadian, and European safety standards: