ESP14 SELF-PROPELLED ROLL TRANSPORT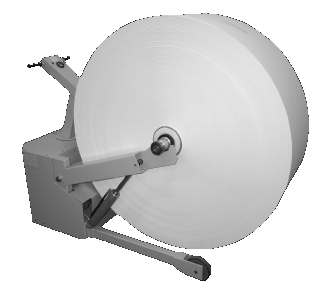 Battery operated with built-in charger
Charger automatically shuts off when the battery is fully charged.
No bulky external charger unit needed.
Safest Method - Now it's even easier and safer to move rolls of paper about. The new ESP14 is fully motorized with two speeds in forward and reverse, battery charge indicator and safety horn. as with the esp12, the rolls are supported from the core and will work with all of esp's unwinds and rewinds.
Turning Radius - the esp14 provides a tight turning radius to allow transporting of rolls in crowded production areas.
Functionality - while the esp14 was designed to be used with the esp400 roll unwind and the esp300 roll rewind it can also be used as a safe and effective way to move rolls of paper in any printing environment.
Video Demonstration of the ESP 14
SPECIFICATIONS:
Machine

HEIGHT 45"
WIDTH 31"
LENGTH 56"
WEIGHT 550 LB.
ELECTRICAL (During Charge) 100 -120 vac, 200-240 vac, 50/60hz


Environmental

TEMPERATURE 30° TO 110°
HUMIDITY 20% TO 90%

Forms

ROLL DIAMETER MAX. 52"
ROLLWIDTH MAX. 20"
ROLL WEIGHT MAX. 1,200 LBS.