ESP82 and ESP82 Web Interface
for Digital Color Press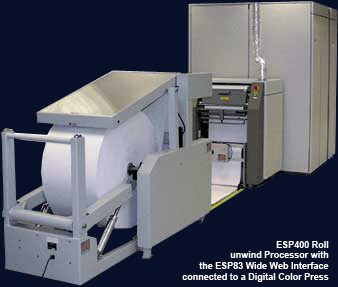 The web interface is a paper tensioning module for the Digital Color Press that allows paper to be fed from the ESP400 Roll Unwind Processor. This gives the press an increased paper input capacity of up to 52" diameter rolls. The ESP Web Interface gives you greater paper cost savings, increased production runs and reduced operator intervention.

ESP82 - 12.6" Web Width

ESP83 - 20" Web Width

Both units contain variable tension control.

Mounts into the press's existing unwind unit without any tools.

Both units work with the ESP400 Roll Unwind Processor.