ESP500 Forms Fold Processor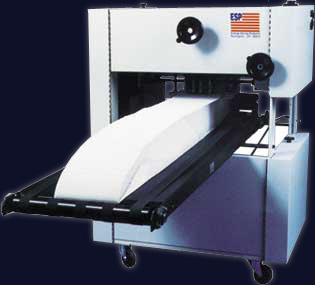 The ESP500 Forms Fold Processor is the perfect solution for :
Production runs that are too small to permit a roll to roll approach.
Applications where the finished product must be folded and placed into cartons.
Applications where the printed material must be removed and sent to finishing during the print job.

Proven Spiral/Beater Technology gentle enough to fold 9 lb. stock and rugged enough to fold 200 lb. stock up to 20" wide.
Direct Interface Capabilities allows interfacing with all major printer manufacturers.
Adaptable: works with all electronic continuous forms printers, roll unwinds, and other devices.
Microprocessor Controlled allowing easy future upgrades and printer interfacing.
300 feet/minute Forms Folding automatically matches the speed of the printer's output to allow trouble-free operation with no operator adjustments. (Higher Speeds Available, see Options)
120 VAC 10A Electrical Supply* uses standard 120V outlet; no special wiring necessary.
Compact Design/Small Footprint saves valuable floor space while maintaining the highest performance and reliability.
Wheel Mounted for quick and easy movement from one area to another.
Table Full Sensor and Warning Light allows for unattended operation.

The ESP500 is certified to American, Canadian, and European safety standards: